What The Pros Say
"
Monolith is a standout bass synth.
Clean and powerful sounds housed in a sleek engine make this an excellent instrument.

"
Ramin Djawadi
Game of Thrones, Iron Man, Westworld
"
Monolith is a whole new category of electronic bass instruments. 
I don't know how you got so much energy into these sounds, but this thing is going to have a lot more uses than just bass on so many future projects!

"
Jeff Rona
Devil May Cry 5, Far Cry 4, God of War 3, The Walking Dead-Last Mile, Resident Evil 2 Reboot
"
I'm always looking for ways to get the bottom end of my tracks massive, and Monolith delivers in a big way.  
I like my synths gnarly and heavy, and the sheer number of wicked samples plus the slick and flexible UI controls let me deploy clean weight, mean pulses, or ugly snarls with ease.  
Monolith is going in slot number one in the synth bass section of my template!
(Saw, Resident Evil: Extinction, Nine Inch Nails)
"
Monolith is full of instant inspiration. The sounds are great and possibilities, endless.

"
Klayton
Celldweller//Scandroid

What The Pros Say
"Scorpio has style and character in abundance. Aggressive synths, polished plucks, and vigorous pulses stand out in this easy to use instrument."
Ramin Djawadi
Game of Thrones, Iron Man, Westworld
"Scorpio sounds great!
It's got a large selection of very hi-fi raw sample material, a clear and very complete UI, and one of the best step sequencers ever.
It's super quick to dial in propulsive patterns, dusty lo-fi keys, or evil drone-scapes.
I'm using it on my current project and loving the results!"
Charlie Clouser
Nine Inch Nails
"Scorpio is a great tool that is simple to understand yet can sound very complex in a good way.
The presets are a great jumping off point and the vast amount of randomizing choices help create new and useful ideas quickly.  This is definitely a useful addition to my composing pallet."
(Grey's Anatomy, Manifest, Station 19, Halloween Resurrection)
"You guys have done it again! Incredible sounds that inspire right off the bat and love the ease of the XY pad to quickly create movement and depth. Another home run!"
John Debney
The Jungle Book, The Greatest Showman, Iron Man 2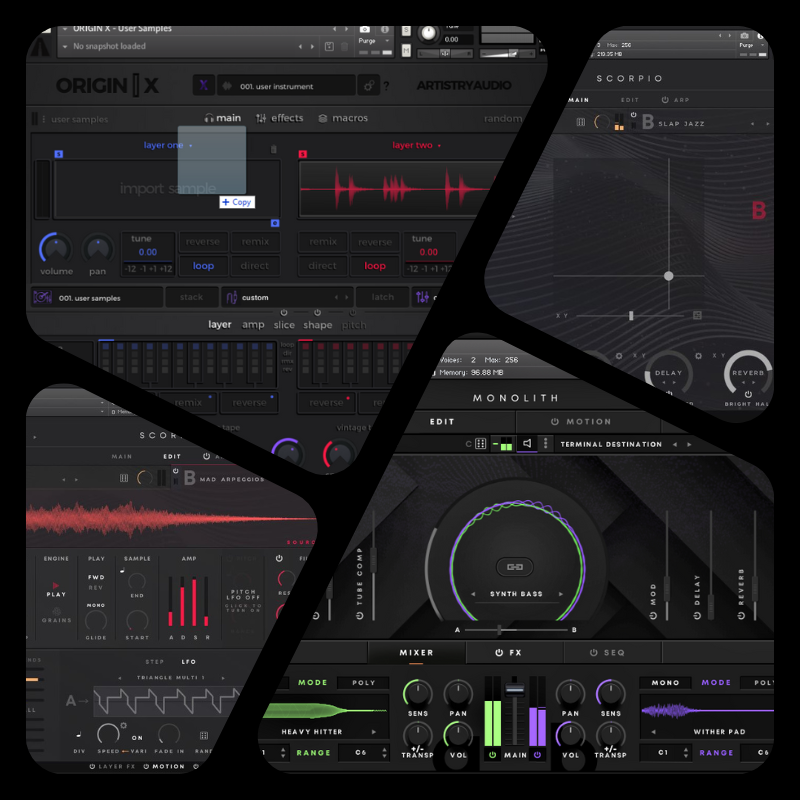 monolith, scorpio, origin x