What The Pros Say
"
Monolith is a standout bass synth.
Clean and powerful sounds housed in a sleek engine make this an excellent instrument.

"
Ramin Djawadi
Game of Thrones, Iron Man, Westworld
"
Monolith is a whole new category of electronic bass instruments. 
I don't know how you got so much energy into these sounds, but this thing is going to have a lot more uses than just bass on so many future projects!

"
Jeff Rona
Devil May Cry 5, Far Cry 4, God of War 3, The Walking Dead-Last Mile, Resident Evil 2 Reboot
"
I'm always looking for ways to get the bottom end of my tracks massive, and Monolith delivers in a big way.  
I like my synths gnarly and heavy, and the sheer number of wicked samples plus the slick and flexible UI controls let me deploy clean weight, mean pulses, or ugly snarls with ease.  
Monolith is going in slot number one in the synth bass section of my template!
(Saw, Resident Evil: Extinction, Nine Inch Nails)
"
Monolith is full of instant inspiration. The sounds are great and possibilities, endless.

"
Klayton
Celldweller//Scandroid
infinite bass ENGINE
Monolith is an infinite bass engine ready to propel your music to stratospheric heights.  Utilize hundreds of ground shaking presets to quickly cut through your mix, or dive deep into the parameters to sculpt bass tones that are all your own. Use any of the 85 groups of high definition basses, subs, orchestral, and synth samples or import your own samples for infinite inspiration.
Overview
Product type:

Kontakt Player/NKS Instrument

Instrument type:

Infinite Bass Engine

For use with:

Free Kontakt Player, Kontakt 6.7.1 or higher

Number of sounds:

85 Multisampled instruments, Unlimited user imported samples 

1 NKI that includes:

350 master presets




200+ core presets, 100+ effects presets, 50+ arp presets

Sound categories:

Bass, cinematic, electronic, lofi, downtempo, organic, sound design

Download size:

3.96 GB (5.72 GB uncompressed samples)

System requirements:

Kontakt 6.7.1 or higher, MacOS 11+, Windows 10+, 4Gb+ RAM

User Manual:

Monolith User's Manual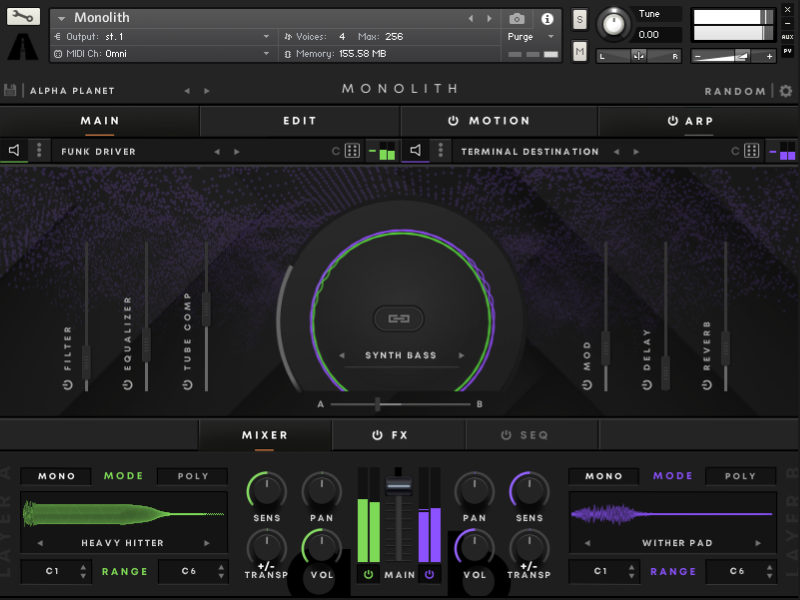 Kontakt Player and NKS Ready