How to activate your instrument
You may find instructions for installing your Kontakt library here:
Do I need kontakt to use your instruments?
Origin X comes with a free version of Kontakt 6 player.  If you need to download a copy of the sofware you can download it for free from the Native Instruments website here: Kontakt 6 Player
Where can I find a copy of my product manual?
You may download a copy of your product manual here:
Where do I find my serial code?
Not sure where to see or find your serial codes for your products?

 

Simply login to your Artistry Audio account and under "DOWNLOADS" you can view your purchased products and their serial codes.

You can also re-download your instrument here as well.

If you still cannot find your serial code we'll be happy to send it over to you – just get in touch via the contact form below.
How many computers can I install my products on?
Purchase of one serial code allows for installation on two machines at once as long as both machines use the same NI Native Access account. 
To install your engine on a second computer, simply log in to your Native Access account on your new computer and your licenses will be reactivated.
I don't see my library in Kontakt after activation
This is an issue that appears on occasion in the new version of Kontakt. You can resolve it by doing the following:
In Kontakt click the gear icon to go to the Settings menu
Go to the 'Libraries' tab
Click the box next to the instruments that aren't showing up
You should now see the instruments in Kontakt. For full instructions on how to do this, please see this page.
Resolve "Library currently not installed" error
When you try to load an Instrument in KONTAKT, you receive the following error message:
This instrument belongs to a library that is currently not installed


Causes
You are trying to load a KONTAKT 6 (Player) library in KONTAKT 5 (Player)
You are trying to load an instrument from the Files tab in KONTAKT while the library is not installed in Native Access.
Solutions
1. If your KONTAKT library is shown in Native Access as activated, but you receive this error message when trying to load the library via the Files tab of KONTAKT 5 (Player), it's very likely that your KONTAKT library requires KONTAKT 6 (Player).
Please install KONTAKT 6 (Player) from the "Not installed" tab in Native Access. When you now open KONTAKT 6 (Player), the library should appear in the Libraries tab. Please note that KONTAKT 6 (Player) is only called 'Kontakt' in Native Access (and your daw):


2. If step 1 did not resolve the issue, please proceed:
Follow the steps below, depending on the type of library you have:
Native Instruments KONTAKT Library
Third Party KONTAKT Library
Native Instruments KONTAKT Library
Launch Native Access from the following location:

Mac: Macintosh HD > Applications > Native Access
Windows: C: > Program Files > Native Instruments > Native Access

Click the

 

Not Installed

 

tab.  Hover your mouse over the KONTAKT library's entry. The option to

 

LOCATE

 

will appear next to the

 

INSTALL

 

button.
After clicking the

 

LOCATE

 

button, you will be asked to

 

BROWSE

 

to the location of the KONTAKT library.

Navigate to the KONTAKT library's folder and confirm your selection.
Click

 

INSTALL

 

to add the KONTAKT library to your installed products.
Finally, open KONTAKT standalone to update the database.
Third Party KONTAKT Library
If the issue relates to a third party KONTAKT Instrument, please follow the steps in this article to correctly add the library to Native Access. The library will then appear in KONTAKT's Libraries tab where it can be loaded from.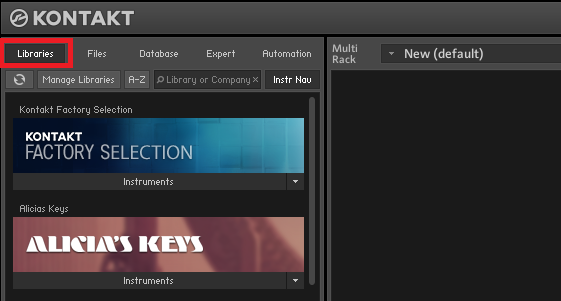 ARE YOUR SAMPLES ROYALTY FREE?
All of our samples are royalty free and you may use them in your productions however you like. The only thing you aren't allowed to do is resell the samples themselves on their own.
To see our full licensing agreement click here: terms and conditions.